Found Your Perfect Template?
Let Us Build The
Perfect Funnel

For You.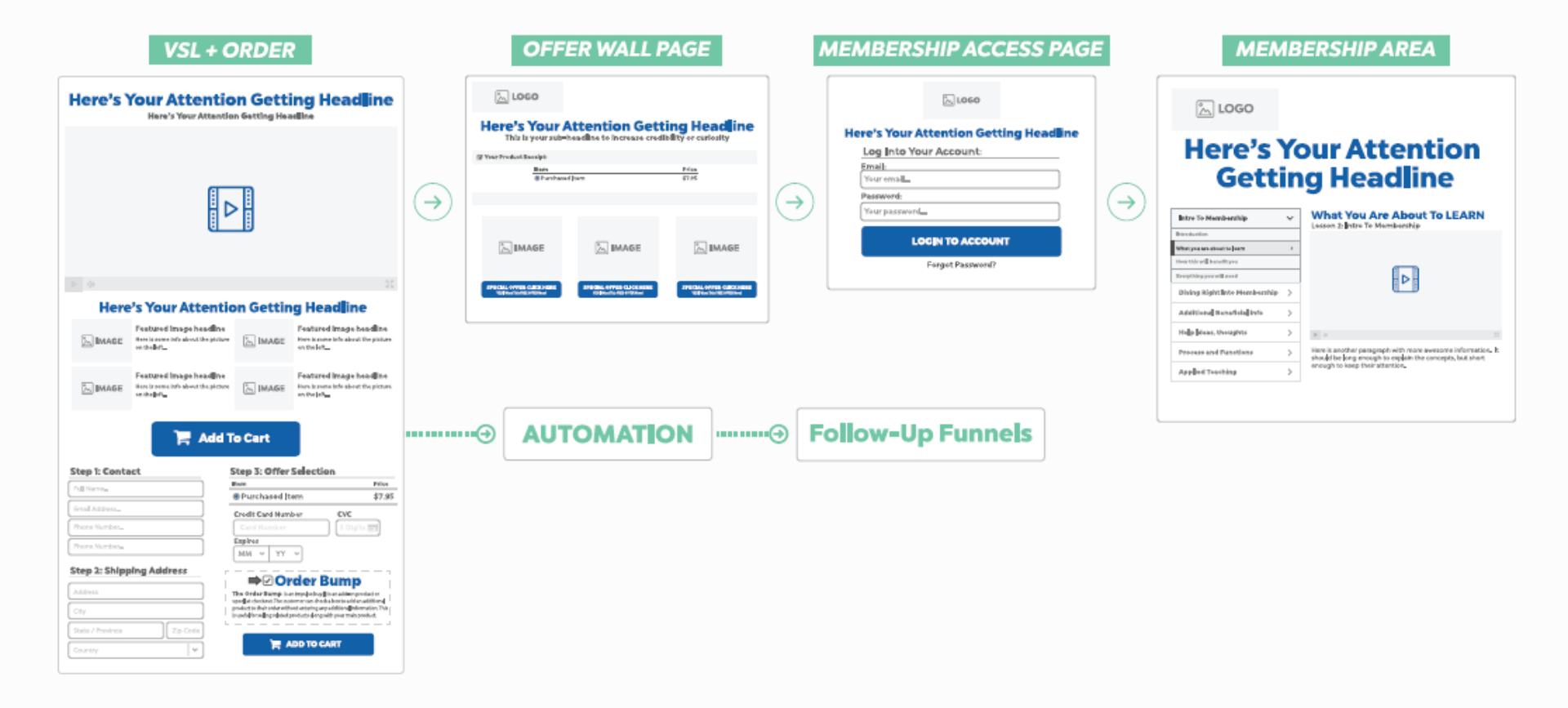 WHAT'S INCLUDED IN FUNNEL SUPPORT PACKAGE…?
Adding your Domain to clickfunnels so your funnel URL includes your domain name.
Integrating Stripe with your clickfunnels and setting up products.
Integrate Clickfunnels with other softwares such as adding leads to a google sheet.
Setting up List and Action funnel in Actionetics so you can store leads and send them emails.
Integrating with Autoresponder such as mailchimp, convertkit, Aweber, etc so your leads are added to autoresponder.
Setting SMTP so you can send Email from Clickfunnels.
Adding Your Branding (colors / fonts / styles) to the Funnel so Your Funnel Reflects You and Your Business
Establishing Flow of Funnel Pages
Responsive Design so Your Funnel looks best not only desktop but mobile as well.
Adding Facebook Pixel and Event codes such as AddToCart, Purchase, Lead, etc.
Adding Favicon to the funnel: The little icon that shows up in the browser's tab.
Testing Funnel in Stripe Test Mode to make sure Everything's working fine.
1. Complete the Order
Complete the order by entering your email and credit card and we are good to get started.
3. Track the Progress
Track the progress in real time in Trello Board. Share the necessary information with us.
2. Trello Board Created
When you order, we'll create a trello board for you and add you to the board. We also add a pre-made list of tasks to the board.
4. Stress Free Funnel Launch
Lauch your funnel without being overwhelmed by tech and focus your energies on growing your business instead of tech glitches.
What's the trun around time?
 We Usually complete the project within a 2 business day. If you need it urgently, Send us a message and we will gladly accommodate you.
 How many pages are included in the package?
  The package includes 3 funnel pages. If your funnel has 4 pages, we won't charge you extra amount for the 4th page. However, Pages more than 4 will cost $17 per page.
 Do you make Integrations with Softwares?
  Yes! We integrate softwares with clickfunnels. If a software does not have native integration within clickfunnels, we can still integrate it using zapier.
 Do you offer continued funnel support?
  Yes! Send us a message and we'll send you the packages.
 Does Funnel Support Package Includes Copy and Graphics?
  Funnel support package includes all tech tasks related to funnel. We can add copy and graphics you provide for an extra $47.
Funnel Support System All Rights Reserved – Copyright @ 2018
Terms of Service Privacy Policy